Did you know that April is Stress Awareness Month? The practice first began in 1992 and the movement has been going strong ever since.
This month's podcast episode of "Don't Come Here: Stories from the Treasure Coast" is dedicated to the natural ways people can relax and unwind while finding their inner Zen. It's streaming on all podcast platforms, and a video version can be found here on the official YouTube channel of Florida's Treasure Coast.
Here are some other unique ways to de-stress when visiting Martin County.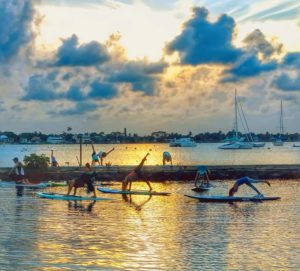 Book a Sound Healing at the Elliott Museum
Sound Vibration is an ancient healing practice of using sound to reduce anxiety and downshift your nervous system. Part of the Elliott Museum's new HI Mindfulness Forums program, Deena Rahill recently launched private Vibration Sound Healing Sessions that use a collection of crystal sound bowls, rain drums, and other instruments to help people unwind and reconnect. During this hour-long session, participants are invited to get comfortable and surrender to the sounds while finding a rhythmic breathing pattern. You'll leave with a sense of inner peace, elevated mood, improved creativity, and deeper appreciation for the wonder of sound.
Get a Private Paddle Tour
Martin County's local tour operators offer a diverse range of aquatic adventures, ranging from SUP yoga expeditions to sunset paddle departures. A popular option is the Manatee Pocket Mangrove Exploration Tour with Liquid Aloha Paddle Co., which covers approximately three miles through the waters of Manatee Pocket in Port Salerno. Another favorite is Zeke's Surf, Skate & Paddle Sports, which offers tours like Stand Up Sunset Yoga and their Indian River Stand Up Paddle tour. Check out all of our outfitters to see which experience is right for you!
Spend Some Time in Nature 
Nestled between Hobe Sound and Tequesta, Jonathan Dickinson State Park is a true natural treasure. Sprawling across 11,500 acres, it's the largest state park in Southeast Florida, and offers a diverse array of natural habitats, including sand pine scrub, pine flatwoods, mangroves, and river swamps. The Loxahatchee River (Florida's first, federally designated Wild and Scenic River) runs through the park. Ranger-guided tours of the 1930's pioneer homestead of Trapper Nelson are available year-round. You can also enjoy hiking, biking, or kayaking while you are here. There are also plenty of other sprawling parks and uncrowded beaches to enjoy in Martin County.
Treat Yourself to a Rejuvenating Spa Treatment
There's no better way to truly unwind than with an immersive spa treatment. Guests of the Hutchinson Shores Resort & Spa should take advantage of The Spa, which offers a range of signature spa experiences such as restorative facials, detox body wraps, stone massages, deep tissue treatments, reflexology, and more. They even offer a selection of day packages for a seamless experience. The Pink Cottage of Jensen Natural Day Spa is another popular option for visitors seeking relaxation. Tucked away in downtown Jensen Beach, their team offers a diverse collection of services, ranging from Mommy and Me packages to male-focused treatments. For a unique experience, visit Salt of the Earth Halotherapy & Spa in Stuart and try their dry salt therapy in a beautiful Pink Himalayan salt room. Antibacterial, antifungal, and anti-inflammatory, the treatments have been used to remedy a host of respiratory and skin issues.
Clear Your Mind During a Scenic Drive
Martin County's vibrant communities are enough to entice any road-tripper to plan a visit. But sometimes to clear your mind, there's no better cure than a long drive surrounded by enchanting landscapes. We recommend a cruise across the Martin Grade Scenic Highway (also known as County Road 714), which effortlessly showcases the beauty of Old Florida. Here, you can wind your way through the entangled canopy of banyan trees that line roads. Twisted trunks and interwoven branches stretch skyward, creating a verdant tunnel that makes for a truly spellbinding scene. For more inspiration, here's a blog post about 5 of the most scenic drives in Martin County.