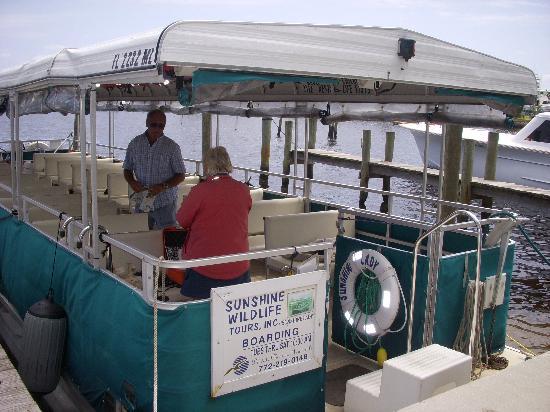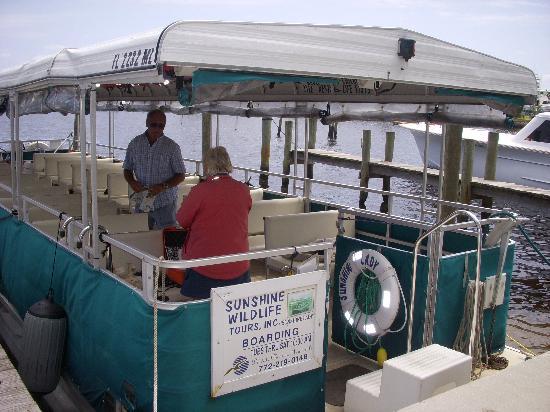 Join Captain Nancy Beaver on an eco-boat tour of the Indian River and the St. Lucie River and discover why these estuaries are so special. See Bottlenose Dolphin, Manatee, Sea Turtles or perhaps an Otter or a Sting Ray.
Experience the most diverse estuary in North America aboard "Sirenia", a 35′ pontoon boat with a full roof and restroom. Join Captain Nancy Beaver, and her 20 years of experience with nature and the wildlife of the Indian River Lagoon. Enjoy close up views of Bottlenose Dolphins, Manatees, Sea Turtles and a vast array of endangered and threatened bird species and their rookeries.
We troll with a plankton and zoo plankton net to view the microscopic life of the nursery in the ocean using our discovery scopes. See the mangrove and sea grass beds that are responsible for sustaining life in the estuary and understand the importance of maintaining the fragile balance of this ecosystem.
We visit bird island on every tour. One of the top 10 bird rookeries in Florida, recently designated a critical wildlife area in the state. This is the first critical wildlife area to be designated by the state in over 20 years. Along the way, enjoy some history of the Manatee pocket, the St. Lucie River, the Indian River Lagoon, and the intracoastal waterway.
Visit an island which is home to 14 species of birds. All tours depart from a dock at the end of Bayview St, located next to Pirate's Cove at 4307 SE Bayview St, Stuart, FL 34997. Parking is available near the dock. Plan to arrive a minimum of 15 minutes prior to departure time.
Address
4290 Salerno Road
Stuart, FL 34997
Phone
(772) 219-0148
Visit Website