Hobe Sound, Florida is more than just a beach town. It's a community full of creativity and local culture. There is no better proof of Hobe Sound's artistic flair than the stunning murals found throughout the city. Spearheaded by professional artist Nadia Utto  in 2009, the Hobe Sound Murals are the result of the hard work of over 40 skilled artisans and 100 individuals who want to "beautify specific locations, enhance civic pride, encourage positive networking and plant seeds for future cultural accomplishments".
Hobe Sound Mural Tours
Residents and visitors can enjoy the murals in a variety of ways.
SELF-GUIDED HOBE SOUND MURAL TOUR
Pick up a Mural Project Tour Map at the Hobe Sound Chamber of Commerce (11954 SE Dixie Hwy., Hobe Sound, FL 33455). The map lists nearly 30 locations including planned mural sites and other art installations around town.
ARTIST GUIDED HOBE SOUND MURAL TOURS
Time: 10 AM- Noon
Begins at the Hobe Sound Chamber of Commerce (11954 SE Dixie Hwy., Hobe Sound, FL 33455)
Price: $15.00 per person (Includes tour, map, bottled water)
Call the Chamber at 772-546-4724 to register.
PRIVATE HOBE SOUND MURAL TOURS
Call Nadia at 561-762-9202 or nadiautto@comcast.net
Click here for a full list of Hobe Sound Murals.
---
Island Beverage Mural
Located at 9128 Bridge Road.
Ice Cream & More Mural
Located at 8781 SE Federal Highway.
Amazing Things Mural
Located at 10830 Federal Highway.
Hobe Sound Deli Mural
Located at 11372 Federal Highway.
Village Bike Shop Mural
Located at  8771 Bridge Road.
Flash Beach Grille Mural
Located at 9128A Bridge Road.
Marketplace Plaza Mural
Located at Hobe Sound Women's Club.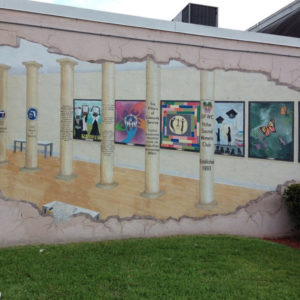 Stars & Strips Mural
Located at 10450 Dixie Highway.