It's hard to believe, but Spring Break in Martin County is just around the corner! If you're planning a family trip down to our sun-drenched shores, you might want to consider turning your vacation into a camp-cation!
Our friends at Macaroni Kid have compiled the 2023 Guide to Spring Break Camps in Martin County! Enroll the little ones early so they can have fun, make friends, and learn something new (while you get a little free time to stroll through the shops, hit the beach, or embark on an eco-adventure).
As always, we recommend calling the facility to confirm details and ensure the information has not changed.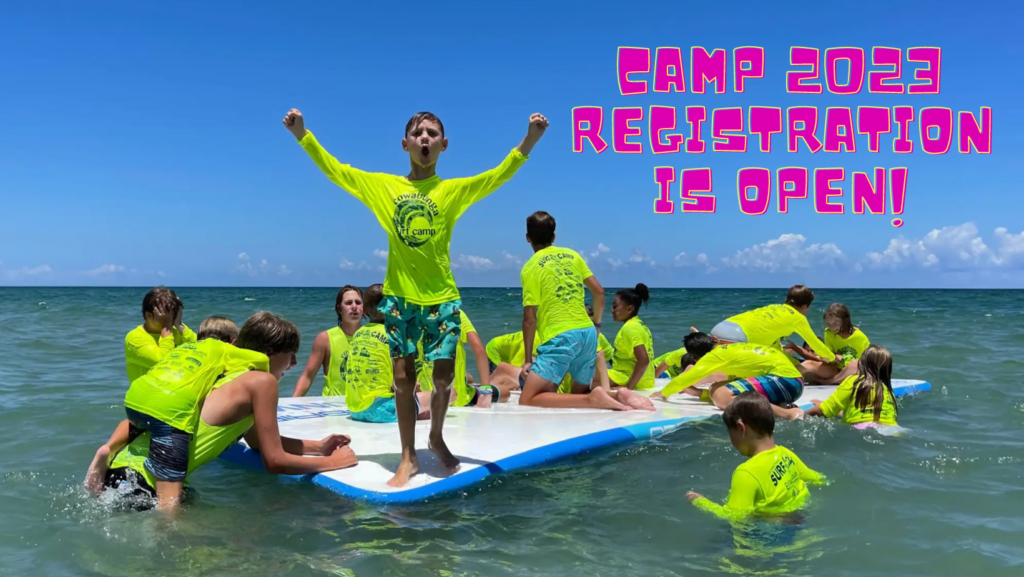 Cowabunga Spring Break Surf Camp
At Cowabunga Surf and Watersports Camp, every camper is a Rock Star! Small, supervised groups rotate throughout the day surfing, skim boarding, body boarding, and paddle boarding as they are instructed in water sports and water safety skills by our screened and trained, kid-loving staff. Surf competitions, pizza parties, and beach games add to the fun. Consistently-enhanced safety features include a very low camper-to-counselor ratio and an electronic check-in and check-out so parents always know their child's whereabouts. Completely open-air, the oversized pavilion at Jensen public beach is our "home base," used at drop-off, pick-up, lunch times, and when weather threatens. In extreme weather situations, our BungaBus is used to house campers until conditions are safe. Additionally, top staffers are Lifeguard certified, all counselors are CPR and First Aid trained, and each camper and counselor is required to wear a camp rash guard throughout the day so everyone — including the professional lifeguards — knows who belongs together.
Address: Jensen Public Beach, Hutchinson Island 39457
Phone: 772-334-7873
Ages: 5 -14
Days: March 13th – 17th
Hours: Full Day: 9:00 AM to 3:00 PM | Half Day: 9:00 AM to 1:00 PM
Campers who choose the longer day receive additional one-on-one instruction or fun time at the beach with the counselor of their choice.
Pre- and after-camp care is offered for an additional fee (24-hour notice required)
Cost: Full day: $375/week | Half day: $350/week | Lunch and a drink is included daily, as is the camp rash guard, a camp beach bag, and all equipment
Sibling Discount: 10%
Registration Fee: None
Registration: Advance registration is required and is available online at www.CowabungaSurfCamp.com
Other Helpful Information: Campers need only to bring a refillable water bottle, a towel, inexpensive flip flops, and a very good, water resistant sunscreen marked with their name. We supply the rest!
More Info: Call 772-334-7873. Additional information and a FAQ page is also available at www.CowabungaSurfCamp.com
The Children's Museum Spring Break Camp
Join your friends at The Children's Museum of the Treasure Coast for a week of spring break fun and games! Participate in outdoor games, museum play, arts and crafts and STEM activities!  Bring a peanut free lunch, snack and water
Address: 1707 NE Indian River Drive, Jensen Beach 34957
Phone: 772-225-7575
Ages: 6 -12
Days: March 13th – 17th
Hours: 9:00 AM to 4:00 PM | Early and extended are available
Cost:
$35 per day for Members
$45 per day for  Non-Members
Early/Extended Care: Additional $10 p/day, p/child
Sibling Discount:  $10 discount for each child registered
Registration: Register in advance. CLICK HERE to register online
More Info: Visit www.childrensmuseumtc.org/camp or call 772-225-7575 x 201
Palm City Farm Camp

At Palm City Farm Camp kids are outside and learn about the nature around them. Bring a snack, lunch, refillable water bottle, old sneakers or boots, and sunscreen.
Address: 6907 SW Moore St., Palm City 34990
Phone: 772-233-7200
Ages: 6 to 12
Dates: Monday March 13th – Friday, March 17th
Hours: 9:00 AM – 2:00 PM
Cost: $255/week
Registration: Pre-registration is required. CLICK HERE to register online
More Info: Visit palmcityfarmcamp.com/spring-break-camp, email info@palmcityfarmcamp.com or call 772-233-7200
Coastal Dreams Sports Center
Coastal Dreams Sports Center's Spring Break Camp features gymnastics, arts & crafts, ninja class, science experiments, dance, sports, games, and lots more other fun activities. Everyone must pack a lunch, 3 snacks and a water bottle.
Address: 8184 SW Jack James Drive, Stuart 34997
Phone: 772-919-1100
Ages: 12 and under
Days: March 13th – 17th
Hours: 7:00 AM to 4:00 PM |Extended Day: 4:00 PM to 6:00 PM
Cost: $165 week |Extended Day: $8 per slot
Registration Fee: $50
Registration Procedure (REQUIRED): Register online via the parent portal at www.coastaldreamssc.com
More Info: Call 772-919-1100 or email CoastalDreamsSC@gmail.com
Visionary School of the Arts Spring Break Art Camp
Does your child need a new sense of energy, enthusiasm and vision? Register for Visionary School of Arts spring break art camp! Camp will focus on all things Spring. . . from florals and botanicals to insects and animals, students will be inspired by all the things spring has to offer to create their works of art! This multi media camp will explore basic drawing, colored pencils, pastels, watercolor, acrylics, experimental and more! A perfect mix of fine art and fun! Please bring lunch and snacks.
Address: 1724 SE Indian Street, Stuart 34997
Phone: 772-283-4888
Ages: 4-18
Dates: Monday, March 13th – Friday, March 17th
Hours: 10:00 AM – 3:00 PM
Cost: $375/week (includes supplies)
Registration: Pre-registration is required. CLICK HERE to register online
More Info: Visit www.visionaryschoolofarts.org or call 772-283-4888
YMCA of the Treasure Coast School's Out Camp
YMCA School's Out Campers swim, play games, conduct experiments, create works of art, and, most importantly, have fun!
Address: 1700 SE Monterey Road, Stuart 34996
Phone: 772-286-4444
Ages: K through 8th Grade
Dates: March 13th – 17th
Hours: 7:00 AM – 6:00 PM
Cost: $135 p/week members | $165 p/week non-members
More info: call 772-286-4444, email scullinan@ymcatreasurecoast.org or visit www.ymcatreasurecoast.org
360 Gymnastics
No school? No problem! Join 360 Gymnastics this spring for their award winning Spring Break Camp! Camp 360 does not disappoint!! Participants will enjoy our rope swing, trampolines, obstacles, arts & crafts, games, movies, a giant Easter egg hunt (on Thursday) and more!
Address: 3210 SE Federal Highway, Stuart 34997
Phone: 772-221-0205
Ages: 5 and up
Days: March 13th – 17th
Hours: 8:00 AM to 2:30 PM | extended day: 2:30 PM – 5:00 PM
Cost: $60 per day | $275 for the week | extended hours: $15 p/day extra
Registration Fee (this is an annual fee that covers all camps offered throughout the year):
Full week: $40 Registration fee for new campers 
Drop in: $10 per day until standard fee is reached
Registration: Register online – CLICK HERE to register
More Info: Call 772-221-0205 or visit www.360gymnast.com/spring-break-camp