Art & History Trip Suggestions
The legacy of old Florida lives on in Martin County, where arts and culture embody the quintessential, beachy beauty of classic Florida. Dance, music, theatre, visual arts, and historical preservation are an integral part of the community, with plenty of opportunities to enjoy each every week. Start by catching a show at downtown Stuart's historic Lyric Theatre, a former silent movie house of the 1920s, now a newly renovated multi-use arts venue. Don't forget to visit one the many historical landmarks that make Martin County truly a one of a kind destination!
Stuart is rich in art and history, the City of Stuart has created an Art & History Map that contains a map of 89 sites within the City. You can print this map off prior to your visit or stop off at 101 SW Flagler Ave. at the Welcome Center when you are in town.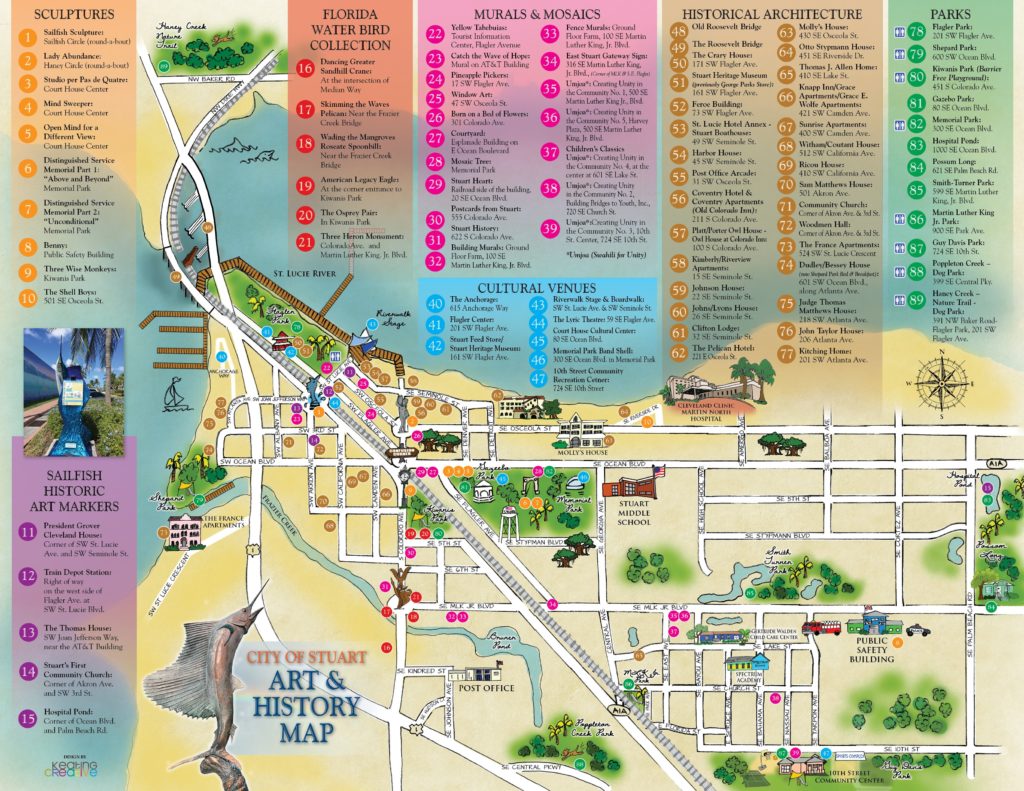 Court House Cultural Center & Gallery
Built in 1937, this art deco-style gallery was added to the National Registrar of Historic places in 1997. As the oldest and largest visual arts museum in the country, the Court House Cultural Center & Gallery hosts fine art exhibitions year round.
Fish House Art Center & Gallery
The Fish House Art Center & Gallery boasts two stories of American fine art and crafts and ten resident artist's studios. Painters, glass artists, and ceramic sculptors occupy the studios year round, and warmly welcome the public for viewing and shopping their creations.
The Lyric Theater
The Lyric Theatre hosts plays, musicals, concerts, and big name talent from around the world. Built in 1926, it's listed on the National Register of Historic Places. Events range from classical theatre, rock and country bands, orchestra and jazz concerts, to dance recitals, school programs, and movies.
Stuart Heritage Museum
Located in the oldest commercial building in Stuart and Martin County, the Stuart Heritage Museum's countless relics embody the history of the people, businesses, agriculture and community spirit of both Stuart and Martin County.
Did You Know?
With year round sunshine, gorgeous beaches, and a plethora of community events, it comes as no surprise that Martin County was named 'Best Place in the U.S. to Retire' by Find The Home.
The Elliott Museum
Named after prolific inventor Sterling Elliott, the Elliott Museum hosts a dynamic and interactive collection of antique automobiles, vintage boats, an impressive baseball collection. In addition, the museum displays an array of traveling exhibits designed to challenge and inspire museumgoers of all ages.
House of Refuge at Gilbert's Bar
The House of Refuge is Martin County's oldest building and the only life-saving station of its kind still in existence. Stop by for an inside look at the many dramatic sea rescues that have taken place over its 120-year history.
Locations Map