EXPLORE THE NATURAL DIVERSITY OF MARTIN COUNTY
From sunrises on the beach to sunsets across pine flatwoods – Martin County has diverse and beautiful environments to enjoy and explore
The Lands
When most people think of Florida, their minds immediately go to our amazing coastlines. However, there is so much more to explore beyond the state's sand and surf. In fact, nearly half of Florida's land area is covered by forests.
Here in Martin County, we have over 100,000 acres of conservation lands. Among this, you will find ecosystems such as pine flatwoods, hardwood hammocks, and sand pine scrub. Areas such as these are a critical part of Florida's environment for a multitude of reasons, including providing habitat for wildlife, storing carbon from the atmosphere, and cleaning our water supply.
Unfortunately, these extremely important ecosystems are under threat as the state continues to develop at a rapid pace. Martin County itself is managing about 35,000 acres of land, and we are constantly working on various ecosystem restoration projects to help protect these areas. You can learn more about Martin County's ecosystem projects here.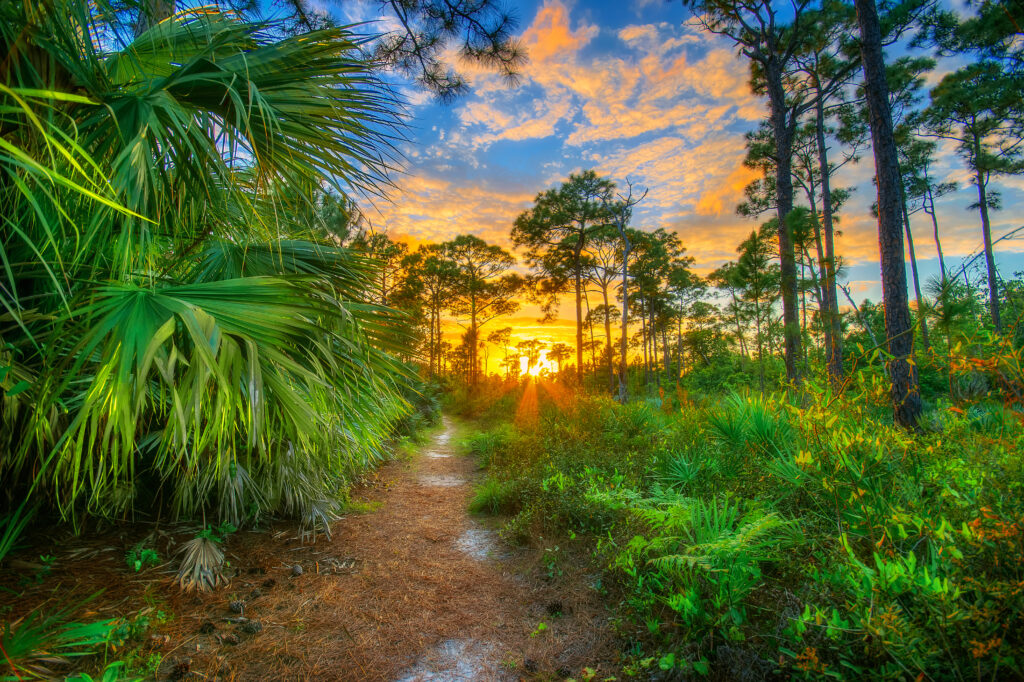 The Coast
Made up of over 20 miles of uncrowded beaches, Martin County's coastline is one of the biggest draws to the area.  Additionally, paralleling the beaches, you will find the Indian River Lagoon, which is one of the most biodiverse estuaries in North America.
The 156 mile long Indian River Lagoon (IRL) is an "Estuary of National Significance" and contains seven of the State of Florida's Aquatic Preserves. The IRL spans the temperate-tropical ecotone and contains beautiful and diverse ecosystems such as mangrove trees and seagrass.  Mangroves are an extremely important part of the coast as they buffer the land against storms, reduce coastal erosion, and provide valuable habitat for many species above and below the water. Harder to see, but also critically important is seagrass. Seagrass provides nursery habitat for many species of fish and many other marine species and is a food source for animals such as manatees.
Our beaches are also essential ecosystems for wildlife. Notably, March 1 to October 31 marks sea turtle nesting season; Martin County alone hosts thousands of nests every year. It is essential that as we visit and enjoy these beaches, that we also remember to take actions that help to protect them. Click here to learn more about what you can do to help protect sea turtles. You can learn more about what Martin County is doing to help protect our beaches here.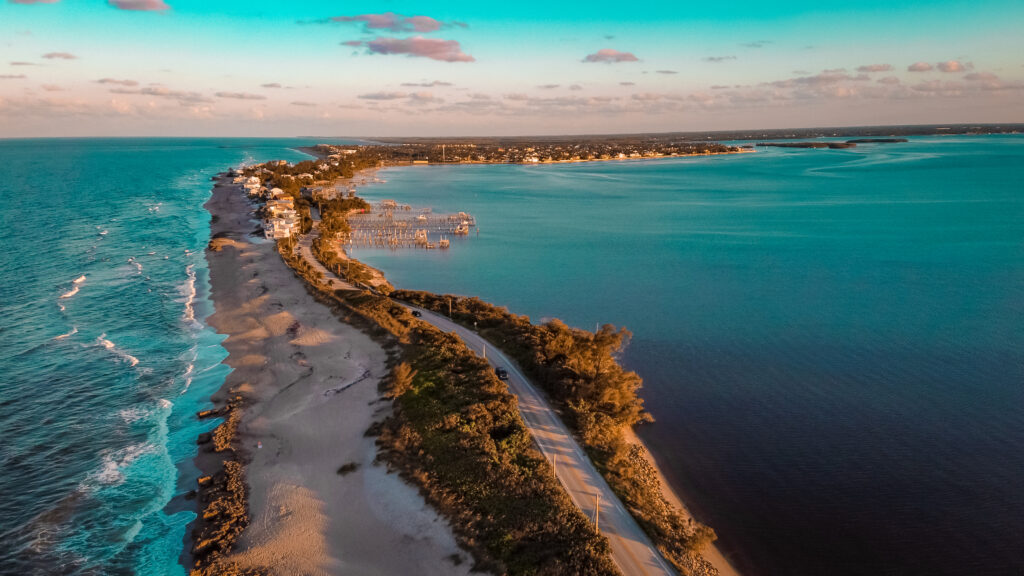 The Reefs
Beneath the waves, Martin County hosts four different types of reef ecosystems: coral, rock, worm, and artificial. Although different, each reef type plays an important role in the greater ocean ecosystem, and it is vital we prioritize their conservation. Reefs also benefit our communities by reducing wave energy from storms, providing recreation opportunities, and serving as an important food source.
The Florida Reef Tract, which stretches about 350 miles from the Dry Tortugas National Park to the St. Lucie Inlet, in Martin County, is the world's third largest coral reef. This spectacular resource offers an enormous variety of adventures for divers, anglers, and boaters. The Florida Reef Tract is a major contributor towards making Florida the "Fishing Capital of the World". Learn more about fishing in Martin County here.
Protecting our valuable reefs is something that everyone can take part in. Some of the actions that Martin County has taken include taking part in the Coral Reef Ambassadors and funding coral reef research. Learn more about the work Martin County is doing to protect our reefs here.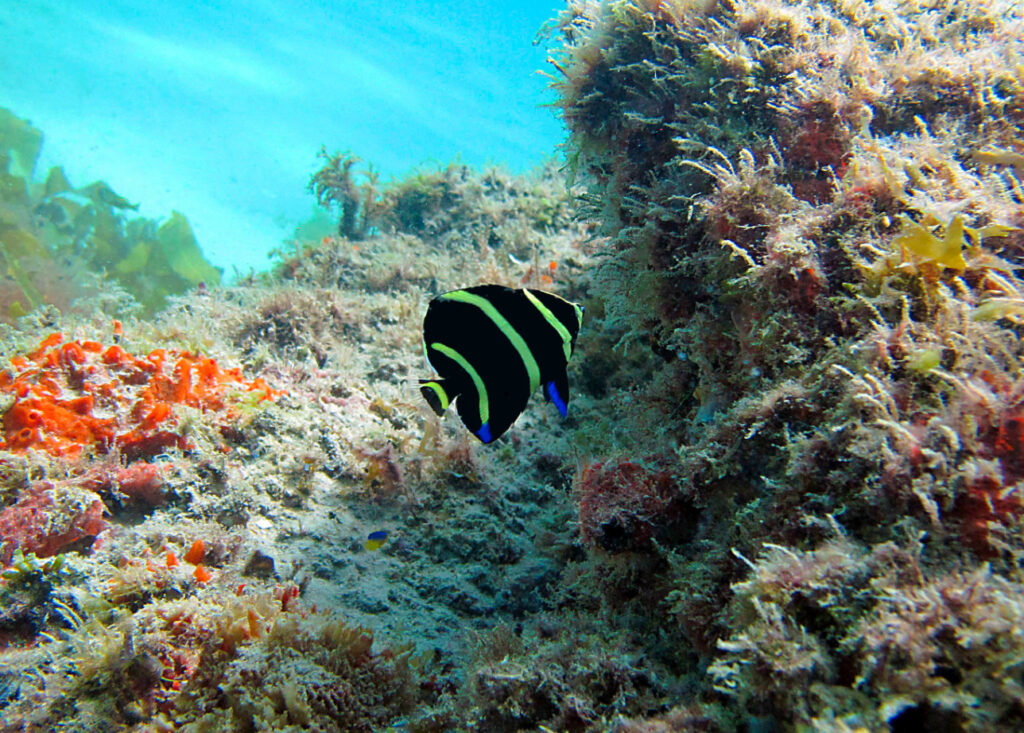 The Inland Waters
Florida's water systems are the critical to the health of the state's communities and ecosystems, sustaining wildlife and fisheries, recreational opportunities, public health, quality of life, and more. Florida has over 1,700 streams and rivers, 7,800 freshwater lakes, and 11 million acres of wetlands. Much of this can be found right here in Martin County.
Wetlands are some of the most unique inland waters that can be explored; from alligators to ancient cypress trees, navigating this ecosystem will often make you feel like you've been transported to back in time. Additionally, wetlands are extremely valuable for both the health of our environment and communities. You can learn about how Martin County is protecting our wetlands here. Martin County is also home to the St, Lucie River and the Loxahatchee River, the latter of which is notably designated as a "Wild and Scenic River". Lastly, Martin County includes a part of Lake Okeechobee, the third largest freshwater lake in the United States.
Over the years, these waters have gone through significant changes due to the pressure from development. Luckily, Martin County is investing significant resources to restore and protect our water for generations to come. Learn about the work we have done to protect our waters here.