For some people, the perfect vacation means sitting poolside, ordering lots of room service, and soaking up the sun on some far-flung beach. But for others, a vacation presents an ideal opportunity to expand their horizons and learn something new. For those in the latter category, Martin County offers plenty of courses, classes, and lessons for visitors looking to experience something entirely new. From learning how to catch a wave to becoming a master beekeeper, these are some of the top skills you can pick up during a Martin County getaway.
Take a Surfing Lesson with Ohana Surf Shop
Locally owned and operated, Ohana Surf Shop on Hutchinson Island is the go-to spot for surfers all over the Treasure Coast. They rent out boards of every kind (surf, skim, stand-up paddle), but they also offer private surf lessons from the shores of Hutchinson Island. Spend the morning or afternoon learning the basics and catching waves in our uncrowded paradise. Whether you're a seasoned pro or total newbie, the experts at Ohana will have you hanging ten in no time!
Unleash Your Creative Side with an Art Class
Need to find your muse? Looking to channel your creative energy? If so, embrace your artistic side at one of Martin County's many artsy hotspots. Try out Stuart Ceramics in historic Downtown Stuart to paint a ceramic keepsake or figurine of your choice! Consider taking a creativity class at Pinspiration, where the whole family will have a blast learning to create a Pinterest-inspired masterpiece. You can also arrange a private clay lesson with Clay Habit Studio and Supply in downtown Jensen Beach, or sign up for a paint class at Painting with a Twist. You can even learn the art of textile dyeing during a hands-on workshop with Suzanne Connors at Aya Fiber Studio.
Schedule a Stand-Up Paddle Session
Martin County's local tour operators offer a diverse range of aquatic adventures, ranging from SUP yoga expeditions to sunset paddle departures. Zeke's Surf, Skate & Paddle Sports offers creative guided tours so you can brush up on your stand-up paddle skills. Don't miss their Stand Up Sunset Yoga or their Indian River Stand Up Paddle tour. It's the perfect way to learn a new pastime while exploring the area's beautiful waterways, whether you're traveling solo, with your partner, your family, or colleagues!
Become a Beekeeper for a Day
Have you ever dreamt of becoming a beekeeper? There's a lot to learn! Spend an afternoon covering the basics with the experts from Hani Honey Company. They will arrange a custom beekeeping lesson on-site at one of their Martin County apiaries. Simply contact them in advance to set up a customizable experience (don't worry about overpacking your luggage – the lesson includes beekeeping suits for your to borrow). Afterwards, you can take a trip to their Hani Honey storefront in Downtown Stuart to taste their homemade mead and shop their other honey-focused favorites.
Row, Row, Row Your Boat
If you're hoping to squeeze in a workout while developing a new skill, then look no further than the Treasure Coast Rowing Club. The TCRC has been rowing the St. Lucie River since 1991 with the mission of advancing the skill and art of rowing. Their team accommodates aspiring rowers of all ages, regardless of ability or experience. Contact them to arrange a private rowing session, which are available year-round by appointment. You'll quickly learn all about the multiple benefits of this unique sport.
Find Your Inner Fisherman (or Fisherwoman!)
It's no secret that Martin County lures fishing enthusiasts all year long. In fact, the city of Stuart is known as the "Sailfish Capital of the World." Whether you're a casual caster or an expert angler, you'll always learn something new while fishing our waters. Team up with one of our local fishing charters, who will help you learn the necessary skills to "reel in" the memories. Most of the tours include bait, equipment, and tackle. At the end of the trip, many will even help clean, fillet, and bag your catch for you! Whether you're looking for freshwater, offshore, or in-shore fishing, our local experts will help plan an experience you'll never forget.
Swing by the Sea with a Golf Lesson
When you think of Florida, chances are golfing comes to mind. As it turns out, Martin County is dream golfer's getaway, home to over 28 world-class courses. Those looking to learn the time-honored game can do so at Sailfish Sands. The stunning course offers private one-on-one lessons for all ages and skill levels. Whether you're just getting started or have been playing for decades, their experienced staff is dedicated to improving your skill level, lowering your scores, and enhancing your enjoyment of the game. They also offer instructional programs all year long, including a Family Golf Program so everyone can compete with dad!
Develop an Appreciation for the Art of Dressage
Dressage is a specific form of horse riding performed in exhibition and competition, most notably as an official Olympic sport. Martin County communities like Palm City and Indiantown have a rich equestrian history, and any visitor can take one-on-one or group dressage lessons at the Art of Riding with Natalia Martin. The International Grand Prix Rider boasts a long list of accolades, including bronze, silver, and gold medals from the United State Dressage Federation. She's a gifted teacher and offers interactive lessons as well as clinics, coaching, biomechanics, and more.
Earn Your SCUBA Certification
Did you know that Martin County's waters mark the start of the Florida Coral Reef Tract, which extends down to the Florida Keys? It's the only living coral barrier reef in the continental United States and is the world's third largest coral reef system, measuring at 105 miles! Plus, more than 800 species of fish call our waters home. See these underwater wonders for yourself by getting SCUBA certified! Local diving establishments, like family-owned Kirk's Dive and Surf Shop and Stuart Scuba, will teach you everything you need to know. You can also sign up for a multitude of recreational courses to brush up on your skills or advance your diving proficiency.
Learn to Sail on the Open Sea
The U.S. Sailing Center of Martin County is a small community sailing center located in the heart of Jensen Beach. Their beautiful facility offers sailing opportunities for anyone curious about learning more. The USSCMC is continually offering sailing instruction, sailboat rides, membership, recreational, and racing opportunities for all ages. They also host many regattas throughout the year, notably the Junior Olympic Festival, Laser Masters, 420 Midwinter Championships, and OptiFest. Located right next to Indian Riverside Park and the Children's Museum of the Treasure Coast, it makes for a full day of fun in the Florida sun.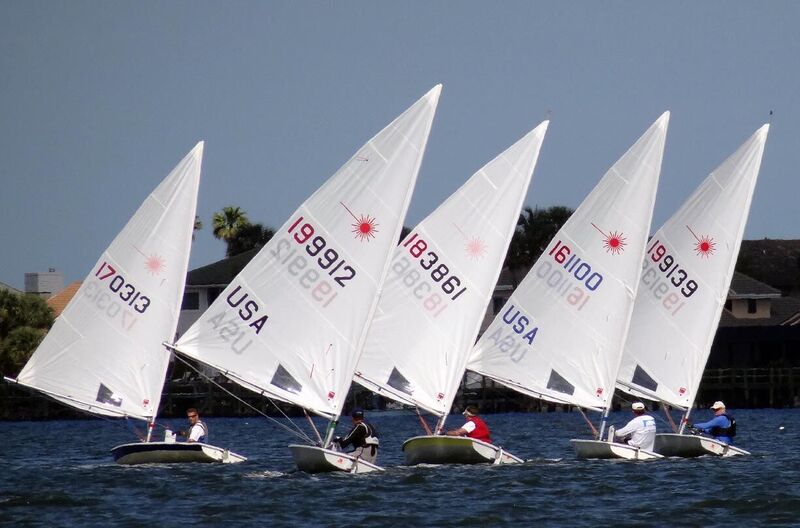 Become a World-Class Water-Skier
Any classic Florida vacation should include a water-skiing experience. Luckily, Martin County offers the Hobe Lake Ski Club! This water ski club was designed and built to foster the exciting sport of slalom water skiing. This heart-racing experience provides a world-class ski adventure on a pristine private lake. During a private lesson, you can learn from the pros, like 12-time Belgium National Champion Wim DeCree and US National Champion Megan Lambert.