It is always the perfect time to visit Martin County, Florida! This easy-to-get-to-area, encompassing the communities of Port Salerno, Stuart, Palm City, Jensen Beach, Indiantown, Jupiter Island, Hobe Sound and Hutchinson Island, offers beautiful beaches and 75+ parks–not to mention the most bio-diverse lagoon ecosystem in the Northern Hemisphere–all within two hours or less driving time of four international airports: Palm Beach, Ft. Lauderdale, Miami and Orlando.
Family adventures are taken to the next level when you plan a summer vacation in this family-friendly community. Have you ever experienced a "Camp-cation?" This new alternative to travel is a win-win for both children and adults. Explore these ideas and start planning your camp-cation today, where kids are engaged in surfing, fishing and unique educational adventures while mom and dad can watch the action or relax seaside in a town known for its beaches, shopping and culinary offerings.

YOUR ENVIRONMENT
If you have a nature bug on your hands, the Hobe Sound Nature Center Summer Camp is a natural choice. The camp is designed to enlighten little ones about the natural world around them. Kids will participate in a variety of activities including nature crafts, games and wildlife presentations. Registration opens in April. Designed for children ages 6-12, this half-day camp leaves the afternoon open for family time. www.HobeSoundNatureCenter.com
Bring kids to a camp at the Environmental Studies Center where learning is hands-on and engaging. A variety of topics are covered throughout the June and July sessions, which include activities like boat trips, snorkeling, fishing, arts and crafts and special Friday activities. www.ESCMC.org/
Martin County's Florida Oceanographic Society offers many choices for aquatic camps. At the Coastal Discovery Summer Camp, kids learn about the aquatic and terrestrial ecosystems while conducting relevant science experiments and interacting with the Florida Oceanographic Coastal Center's wide array of live marine animals. Programs run throughout the months of June and August for ages 5-16. The Specialty Immersions summer program takes place on Hutchinson Island, located between the Indian River Lagoon and the Atlantic Ocean. This camp is offered to ages 12-16 during July and August. Activities include exciting exploration of the fascinating Florida ecosystems. Campers will explore and learn more about the plants and animals that live under the sea. If you have an expert junior-angler on your hands they can hone their skills in the Saltwater Fishing 101 instruction class; here, kids learn about fishing tackle, methods and techniques. A Snorkeling and Reef ID 101 class is also offered; children are taught the basics of snorkeling, identifying local species and conducting REEF fish surveys. www.FloridaOcean.org
FUTURE FARMER?
Ground Floor Farm has an exciting program of summer camps at the farm. Learn to bake bread, discover the building blocks of gardening, and get imaginative with arts and crafts. Your child will have a blast learning, exploring, and getting creative in a safe and nourishing setting. Learn more and sign up here http://www.groundfloorfarm.com/education/#summercamp.

SURF'S UP!
Surf's up in Martin County! There are several surf camps taking place this summer in Martin County at beautiful Jensen and Stuart beaches. Martin County offers the first consistent surf as you travel north along Florida's coast. Plan a trip here during the summer, sign the kids up for camp and relax seaside while your children are engaged in a memory-making activity, learning about the ocean and beach safety while surfing the summer away. Below are a few of the surf camps taking place in Martin County (most accept ages 5-17 and operate May-August):
Ohana Surf Shop offers weekly camps based on Stuart Beach. Visit www.ohanasurfshop.com for details.
Cowabunga Surf and Sport offers weekly camps based on Jensen Beach. Visit www.CowabungaSurfandSport.com/camp for details.
Surf Central offers weekly camps at a location to be determined. Visit Surf Central for details.

SET SAIL
The US Sailing Center Sailing Camp is a great fit for sea-loving children. The US Sailing Center of Martin County is one of only three Community Sailing Centers in the United States sanctioned by US Sailing–the national governing body of the sport of sailing. A variety of programs each week range from beginner to advanced skill lessons and training on sailing. The camp is available to children ages 5-17. To register your little skipper, go to www.USSCMC.org where you can find more information about the camp.
LEARN TO ROW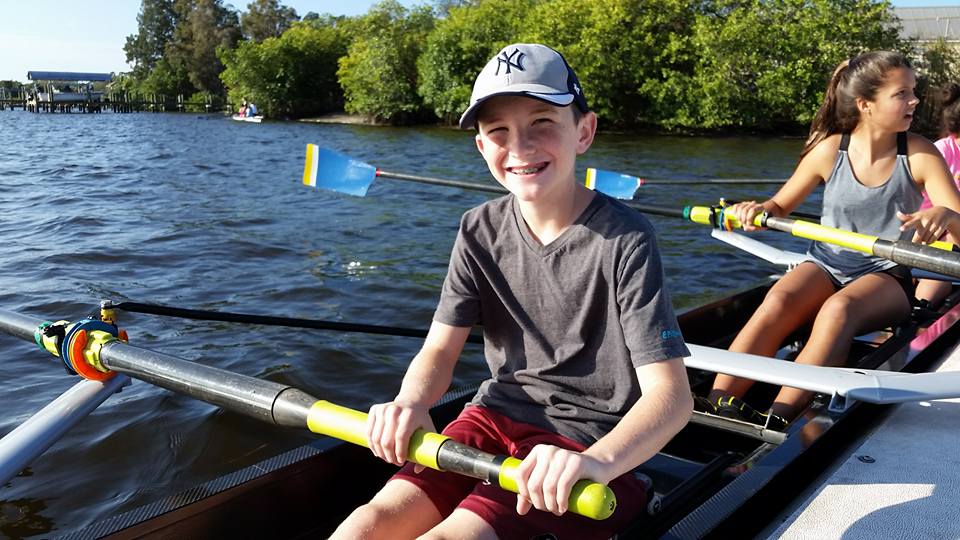 Treasure Coast Rowing Club's Head Coach Stefanie Falkner and her experienced staff are ready to challenge new and experienced rowers to reach their potential in both sweep and sculling. TCRC's rowing camps are designed to teach and improve fundamental rowing technique, mental aspects of racing & training, and overall strength & flexibility. All boys and girls entering 7 – 12th grade with an interest in joining the winning tradition of TCRC are welcome.

CALLING ALL FUTURE ANGLERS!
Fishing camps in Martin County offer young fishermen and fisher-women the opportunity to learn all about fishing, conservation and proper techniques to help them cast a line. Sign up for Summer Fishing Camp with Capt. Giles Murphy, offered from 9 a.m. to 2 p.m., Monday through Wednesday, leaving the remainder of the week open for exploration. Bring a fishing pole or one will be provided at no cost. Numerous prizes are awarded and these camps offer a good time for all fishing enthusiasts ages 6-17. Visit www.StuartAngler.com or call 772-288-1219 to register.

GET CREATIVE!
Summer Creativity Classes
Summer Creativity Classes at the Elliott Museum are much more than summer camps. We provide young artists and photographers ages 6-14 a real working studio, quality materials and professional guidance from working career artists and art instructors. Summer Creativity Classes offer a variety of age-specific projects, skills and materials. Please find a description of classes below:
Acrylic & Mixed Media Painting Camp – Young artists will learn how to paint creatively in acrylics and add texture and dimension to their work. Styles range from realism to abstract, including collage and mural techniques.
Art & Craft Camp – Features a variety of creative projects including drawing, painting, pastel, collage, papier mache, ceramics and other fine crafts.
Ceramics Camp – Young artists will adore working with a professional ceramist in these very well-rounded and creative sessions geared toward their age groups.
Drawing & Painting Camp – Artists will enjoy a week of drawing and painting projects in various media.
Digital Photography Camp – Livia will be back this year teaching her very popular Digital Photography Class. Class will meet on Wednesday at the House of Refuge!
All materials and a snack are included in our Summer Creativity Classes. Participants in the Digital Photography class must have their own digital cameras (no phone or pad cameras). Projects are kept "under wraps" during the week to be unveiled each Friday, 30 minutes before class ends, at a Museum Reception for our artists, their families and friends, including light refreshments. Classes fill quickly – don't get left out! www.ElliottMuseum.org
Lyric's Awesome!
Summer campers are in for an exciting, fun-filled summer. L.A.S.C. is a camp for all kinds of kids and, although this is a theater camp, options are available for children who don't want to be in the spotlight. There are plenty of behind-the-scenes roles.
Session One: June 12 – 30
Peace Out! "Peace begins with a smile." – Mother Theresa
Campers will lead the way as responsible world citizens sharing messages of peace, tolerance and respect through fun team-building activities, acting, song and dance.
Session Two: July 10-28
Home is Where the Heart Is "Home is the nicest word there is."― Laura Ingalls Wilder
Homes come in many different shapes and sizes, but for most home isn't a place – it's a feeling. Campers will join together in a joyous musical celebration of what home means to them.
Ages: 1st – 8th Grade  (Based on grade entering in the fall)
Camp Hours: 9 a.m. – 4 p.m.
Location: Flagler Place, 201 SW Flagler Ave, Stuart, FL
Tuition: $395 + $25/Reg. Fee (Reg. fee is waived for returning campers)
http://www.lyrictheatre.com/awesome-summer-camp
Dance, Arts and Science – Oh My!
Dance Academy of Stuart camps focus on ballet, jazz, tap, hip-hop, pointe and lyrical, and feature qualified and experienced instructors with low student-teacher ratios. www.DanceAcademyofStuart.com
StarStruck's All Star Summer Camp
These camps are packed with singing, dancing and acting. With introductions to dance styles like jazz, tap, and hip-hop, group voice class, acting class and improv games, All Stars Camp gives students fantastic exposure to the many different disciplines in the performing arts while boosting confidence and encouraging creativity. www.StarStruckFL.com/summer.html
Crafty Camp!
Get creative with hands-on activities such as sculpting, painting, papier-mâché, tie dye, mosaics and sock puppets during a variety of camps offered June through August. www.StuartCeramicsStudio.com
Camp Invention
For the young scientist, this Discover: Science enrichment camp offers five modules, hands-on exploration, creative thinking and problem solving. www.CampInvention.org
The Children's Museum Summer Camps
The Children's Museum of the Treasure Coast offers a fun-filled camp experience that encourages creativity, fosters critical thinking and engages students through hands-on learning. www.ChildrensMuseumTC.org
Kids Need More Art Summer Series
Have a budding Picasso on your hands? Little ones will love the Kids Need More Art summer series. Choose from express days (9 a.m.-3 p.m.) or full days (8:30 a.m.-4 p.m.). This summer series is open to children ages 5-9. Artists will create three of their own master pieces and two minor ones using different media approaches. www.KidsNeedMoreArt.com/stuart/

CALLING ALL HORSE LOVERS
When it comes to equestrian camps, Martin County isn't horsin' around. Below are a few of the many equestrian camp options for young riders:
Choyce Party Ponies
Programs for junior equestrians are offered from 8 a.m. to 5 p.m. from June to August. Offerings are available for Kindergarten to 10th grade. ChoycePonies.com
Horseback Riding Camp
Learn to groom, tack and ride horses. Campers will enjoy crafts, water games and other activities. Learn responsibility while having fun. Offered on select dates in June. Ages 5 and older. PalmCityEquestrians.com
Marasco Ranch
Family-oriented camp offering horseback riding, caring for baby farm animals, swimming, canoeing, archery, roping, arts and crafts and more. One counselor per six children. www.MarascoRanch.com
Sunny Time Stables
Learn horseback riding on safe, well-trained horses. Campers will enjoy lots of fun, games and riding time. Camps are offered for beginners to advanced riders. www.SunnyTimeStables.com
Standing Oak Farms
Join us for a summer of equestrian and animal enrichment camp for children ages 7 – 12. Visit www.standingoakfarms.com  for information. Camps will cover a variety of topics
Introduction to riding
Horsemanship 101 – Caring for your horse
Humane Education – Empathy starts with how we treat animals
Out of the Saddle Fun, Games and Arts & Crafts
Guest presenters and demonstrations- TBA
Classes are limited in size for safety to provide a more personalized learning experience
ALL AROUND FUN!
Martin County Parks and Recreation offers two full-service summer camps with an indoor/outdoor menu of recreational and educational activities including field trips, arts and crafts, wacky water days and more. The Jensen Beach summer camp is open to children ages 5 (completed kindergarten) to 12 years old. The Jensen Beach Tot Camp is a great, full-day summer camp open to all potty-trained 3 to 5 year olds. This camp focuses on socialization and pre-school age play! Registration for all summer camps is currently open and camp begins May 30, 2017. For additional details, including registration, visit Econnect.martin.fl.us/econnect/Start/Start.asp or call 772-334-1954.